Yesterday I was in a cake competition.
We were allowed to show up with 2 tiers of cake, covered in plain fondant or buttercream.
It had to be under 2 feet tall and wide.
We stacked and decorated the cakes there, so the audience could watch.
And the theme was "Living the Sweet Life".
I chose to make a bee/honey themed cake, so I did a beehive on top of a bed of gumpaste flowers.
I like how my cake turned out, but it didn't turn out quite like I wanted. A few things went wrong and I was kinda rushed. I got to the competition 2 hours late, so didn't have as much time as I wanted, oh well....my fault.
I patterned the design of this cake after the
Tamera cake
. I wanted to stick to something I kinda knew for a competition.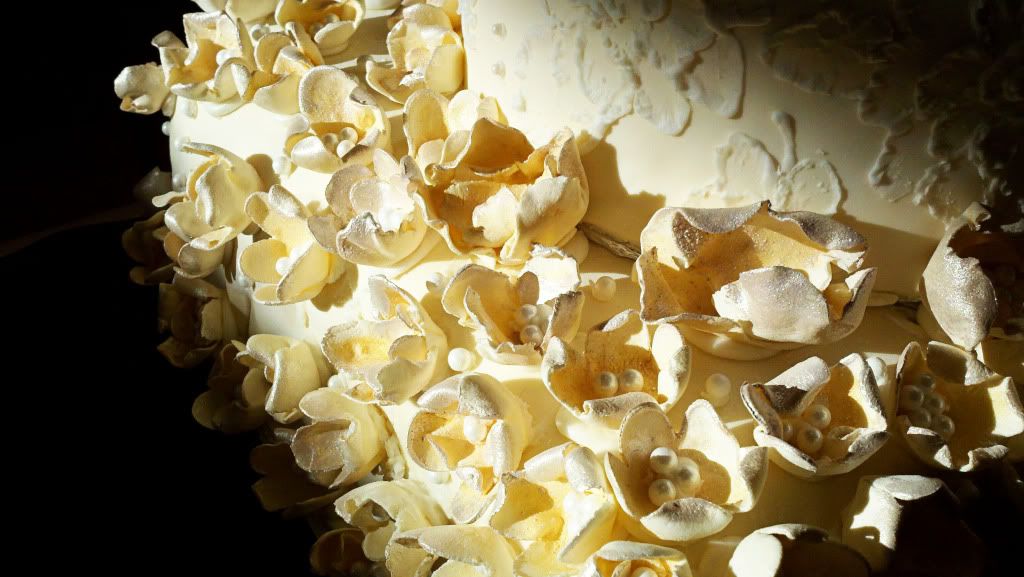 I love this picture, Jake took it. All the window's blinds were closed in the whole big room we were in, except for one window. And it happened to light up my whole cake.When the sun was going down it was beaming on the flowers of my cake and made this funky shadowing.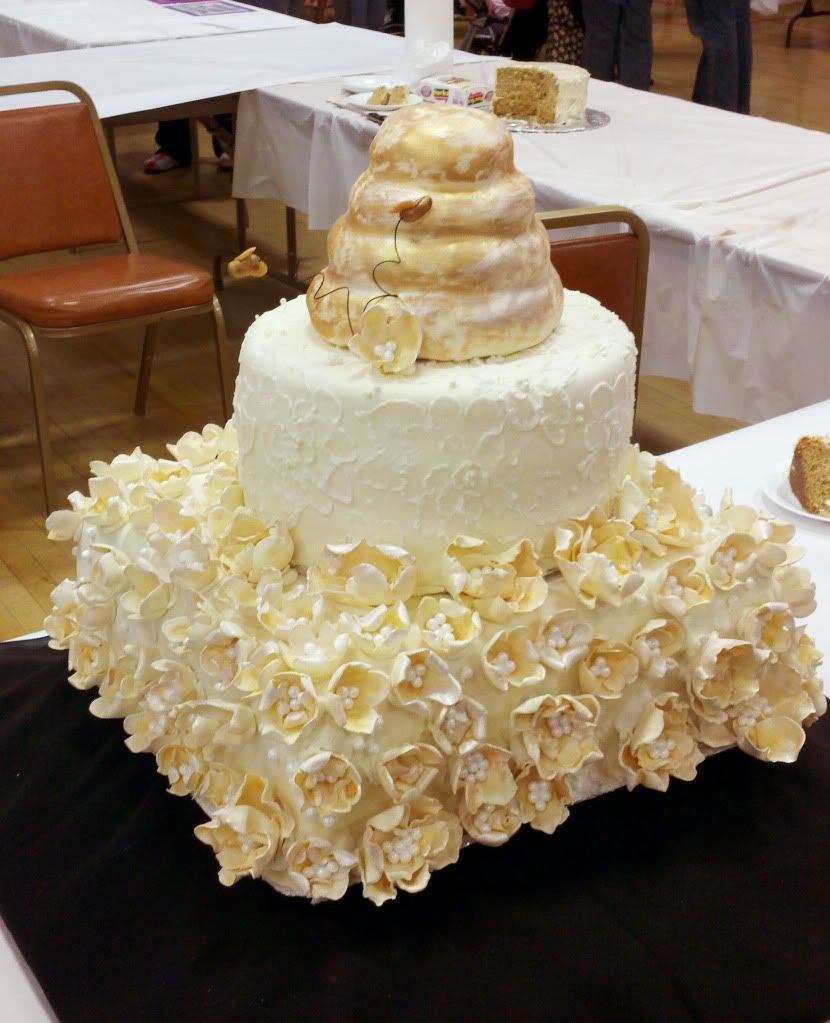 Sticking with my bee theme, the inside is a honey cake. With a honey cream cheese frosting and then covered with marshmallow fondant. When they judged the cakes, we had to stand on the opposite end of the big room. But I still tried to see what they thought of my cake from 50 feet away. The judges REALLY loved my Honey Cake. We had slices of cake out for them to taste. And they only took one bite of everyone's cake. But...After the judging was over one of the judges came over and finished her piece of honey cake. She also asked to eat one of my gumpaste flowers and tried the pearls too! It was awesome!
The pattern I piped on the second tier of cake.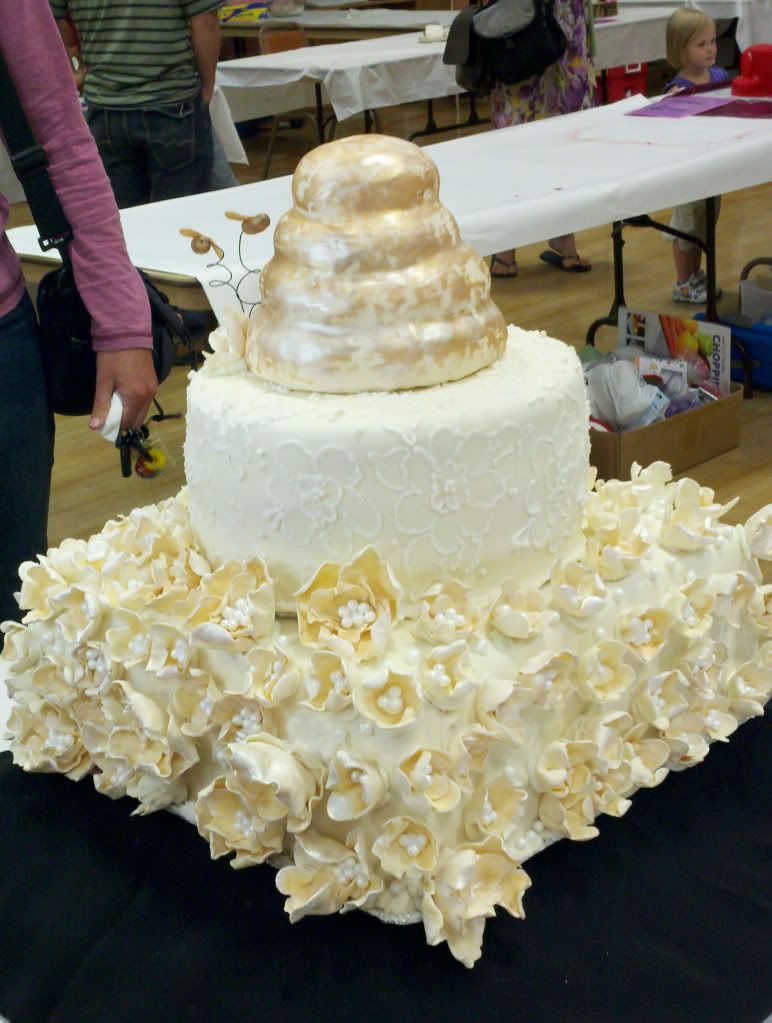 The bottom tier has gumpaste flowers covering it, painted with luster dust and edible pearls in the flowers.
The flowers are VERY shimmery in real life, I wish the picture showed that...
The second tier is piped and painted with a royal icing flower design.
The topper is a beehive made out of rice crispy treats, covered in fondant and painted with gold and silver luster dust. Then there is 2 little bee's made from marzipan and painted gold.
Here are the other entries in the contest. A LOT of awesome cakes! I really loved all of them!
And hated they were my competition...
This cake won third prize. Picnic cake.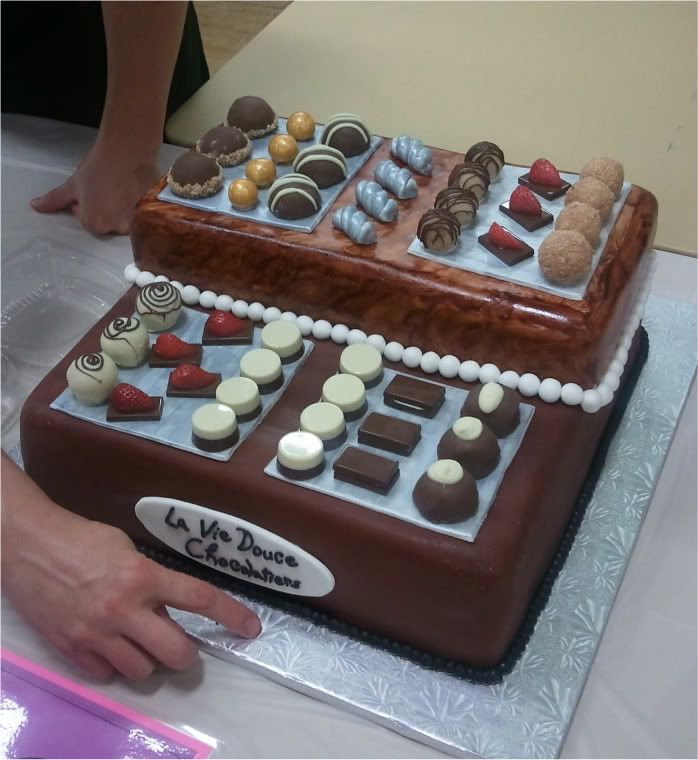 I
overheard
the guy who did this cake owns a bakery, and is moving to NYC next week, awesome! You can charge a lot more money there than Utah...smart man! La Vie Douce Chocolatiers Cake. Covered in beautiful chocolates. I wonder if he made all of them?
The Prada cake won the People's choice awards!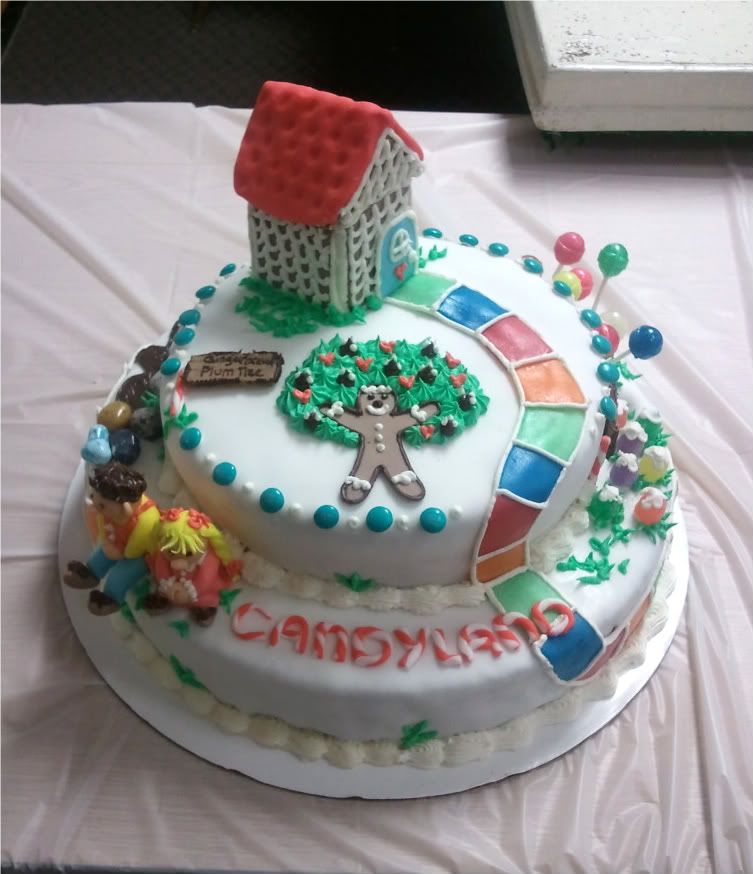 Candy Land Cake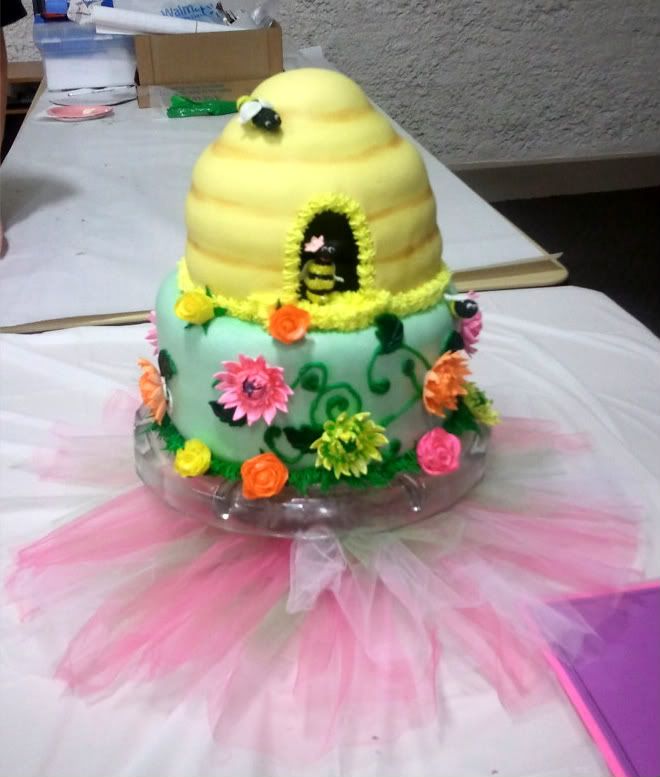 Another Beehive cake, we think alike. Actually it was my mom who came up with the idea/design for my cake.
Thanks MOM!!!!!!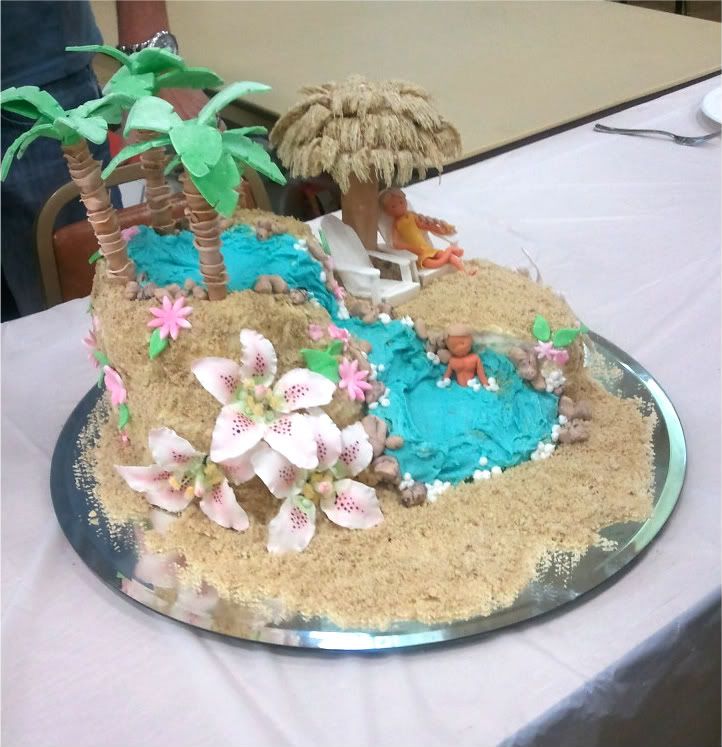 Island and Beach paradise Cake.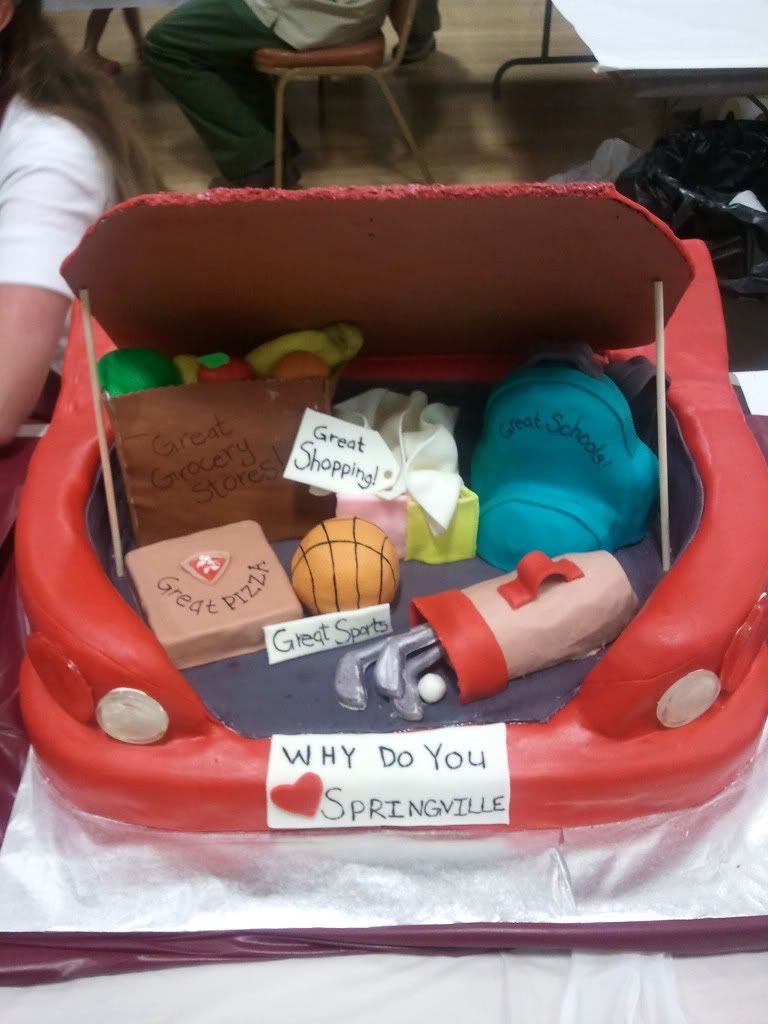 This was the trunk of a car. With all the things she loved about Springville. I
overheard
this lady has a TV show where she teaches cake decorating.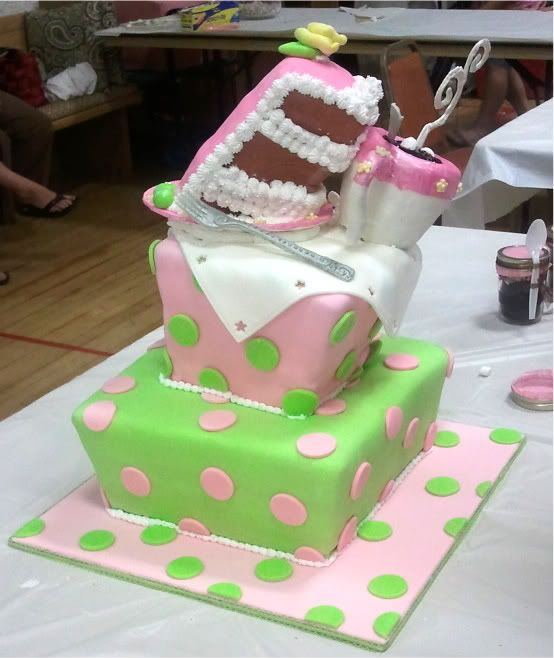 Fun Square Topsy Turvy cake
Humming Bird Cake on a log cake stand. I loved this cake. The humming birds are awesome. And the gumpaste work was perfect.
Sweet Candy Cake. This was the 1st prize cake! She won a cricut cake machine. Totally awesome!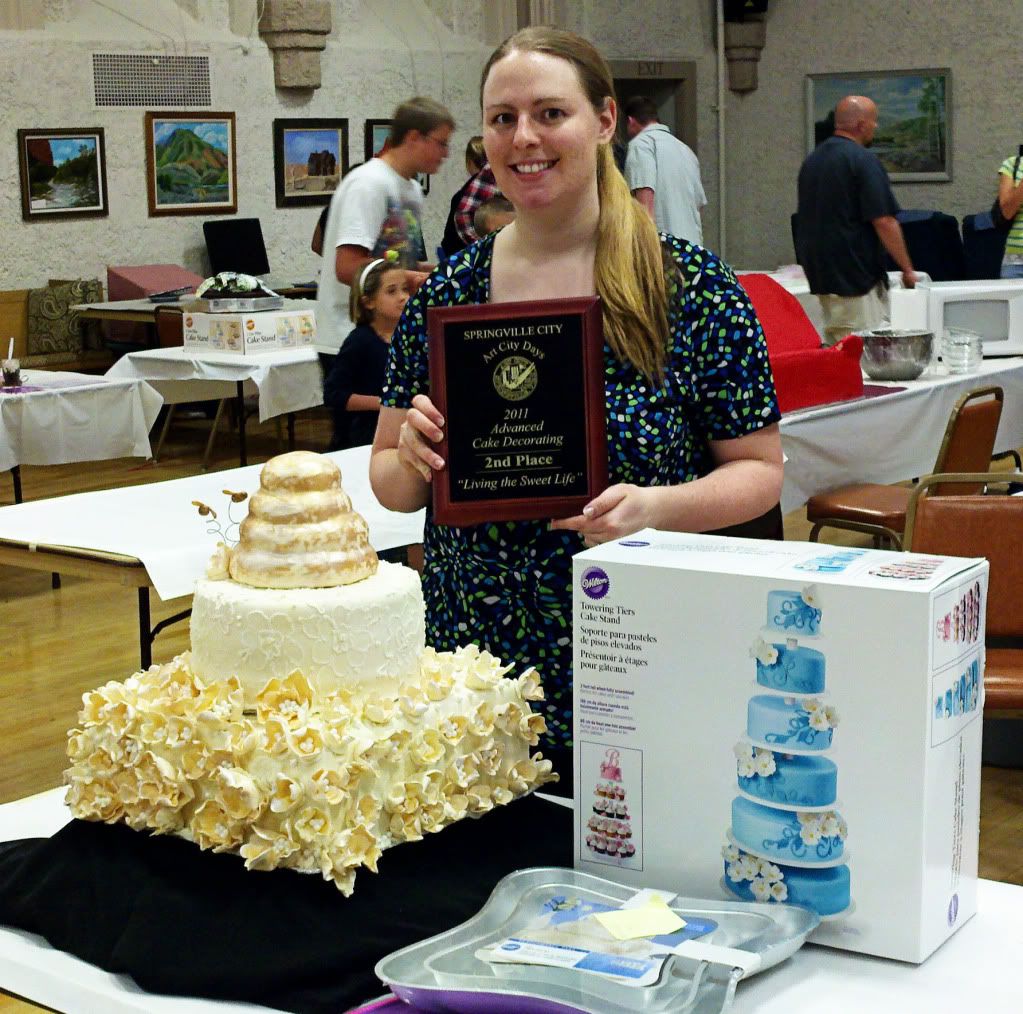 And me?
Well I won SECOND PLACE!!!!! I was so happy and surprised!! I won a
6 tier cake stand
, a plaque and a
pillow pan set
. I learned so much from the whole thing. And will be back next year and be more prepared!!!
Thanks for all the family and friends that came and saw me decorate!
And EXTRA thanks to Jake, Mom and Dad for helping me with everything. YOU ROCK!!!!!