This adorable guy turned ONE!!
I remember
a year ago
, when we worried we might never even take him home from the hospital.
He is such a happy little boy. He adds so much laughter to our family.
We planned a big party for him. But then a funeral came that same weekend. So, it got rescheduled for the next week. Well, a day before that big party we all got super sick. Finally, three weeks later, we ended up having Jack's Birthday Party. By that time we lost half of the guest list. Which we were sad about, but we ended up still having fun!
Here is the horizontal rainbow striped caked I made. I didn't have much fondant, so I rolled out the fondant super thin for stripes. It took about half as much to cover the cake as normal. My favorite parts of this cake are the edible Gold Sparkle stripe. And the inside of the cake.
It's made with 5 layers of cake. Alternating Devil's Food Chocolate and White Vanilla. The filling is Marshmallow Buttercream, and the outside frosting is Dark Chocolate Cherry Frosting. Then covered with Marshmallow Fondant.
I didn't have any money for the party. We grilled hot dogs and everything else was just potluck. We used inexpensive pieces of fabric I had to decorate the tables. And a pack of dollar balloons for a balloon garland.
I wanted more on the tables, so I took some pipe cleaners I had from previous cake decorations. And put them in mason jars on the table like funky bouquets. My family is very creative and it seemed to be pretty fun for people to make funny things with them during the party.
Here is George playing with a dinosaur and a horse someone had made.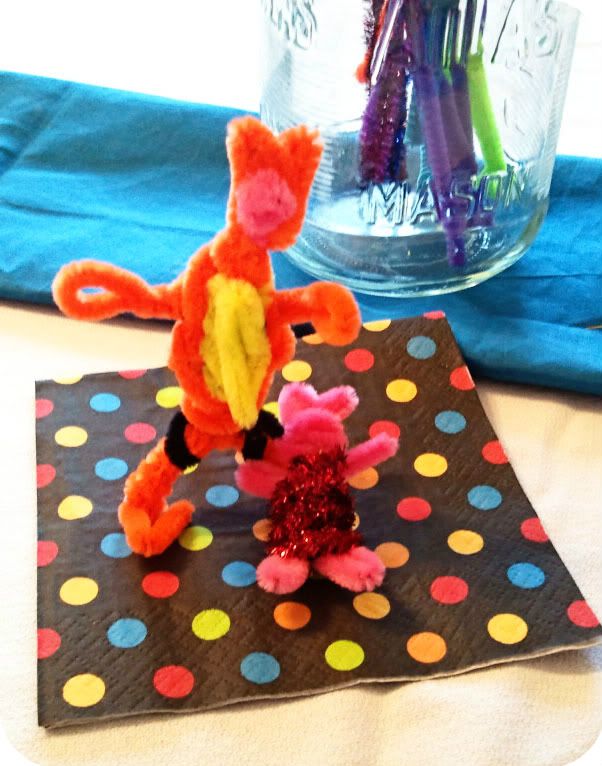 And these are my favorite. My brother made Tigger and Piglet.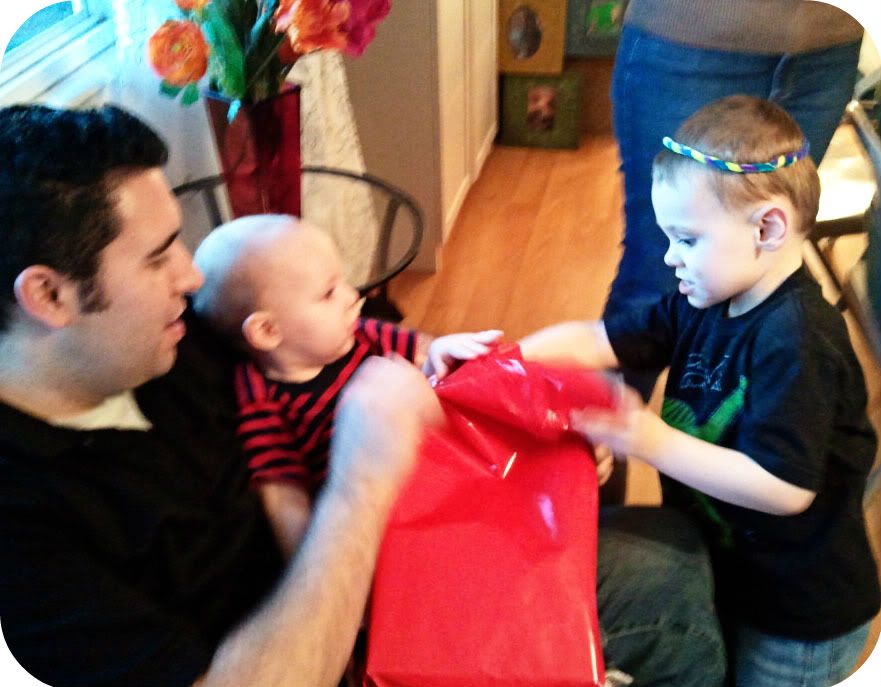 George helping JackJack open his presents. Look at Jack's face, I'm not sure he wants to share.
Happy Birthday JackJack!
You are amazing kid! We sure love you!